Katy Perry was just a sheltered daughter of strict Christian ministers before taking the music world by storm with her campy, doll-like looks and penchant for kissing girls.
The cheeky singer's road to fame has been full of disappointments: Perry released a little-known gospel album, got dropped from numerous labels and was broke by the age of 22. Now, thanks to her infectious hits ("I Kissed a Girl," "Hot 'N Cold" and "California Gurls"), the Grammy-nominated songstress counts Madonna as a fan and British comedian Russell Brand as her husband
Katy Perry was born Katheryn Elizabeth Hudson in Santa Barbara, California. The second child of two pastors, she has an older sister and younger brother. Her Evangelical mother, Mary Hudson, grew up in Southern California and had "a tempestuous first marriage in Zimbabwe". Her father was a West Coast scenester in the 1960s. Perry's uncle and aunt were director Frank Perry and screenwriter Eleanor Perry.
Baptized a Christian, Perry was incorporated to her parents' ministry, and she started singing in their church from the age of nine; she continued singing in the church until she was 17. She grew up listening to gospel music and was not allowed to listen to what her mother called secular music. Perry attended Christian schools and camps. As a child, Perry learned how to dance in a rec hall in Santa Barbara. She was taught by seasoned dancers and began with swing, Lindy Hop, and jitterbug. She took her GED after her freshman year of high school and decided to leave school to pursue a career in music. Perry initially started singing "because I was at that point in my childhood where I was copycatting my sister and everything she did". Her sister practiced with cassette tapes, and Perry took the tapes herself when her sister was not around. She rehearsed the songs and performed it to her parents, who suggested she should take voice lessons. She grabbed the opportunity and began taking lessons at age nine to 16. She enrolled in at the Music Academy of the West in Santa Barbara, and studied Italian opera for a short time.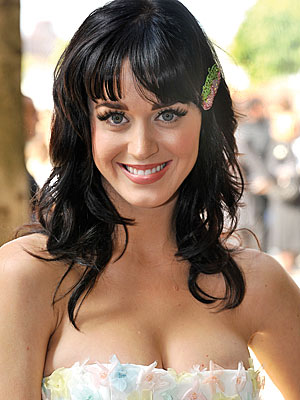 Katy Perry performing on her guitar. She learned how to play the instrument when she was just starting her record career.
At the age of 15, Perry's singing in church attracted the attention of rock veterans from Nashville, Tennessee, who brought her there to polish her writing skills. In Nashville, Perry started recording demos and was taught by country music veterans on how to craft songs and play guitar. Perry signed to the Christian music label Red Hill, under which she recorded her first album at the age of 15. As Katy Hudson, she released the self-titled Gospel-rock album in 2001.
The album was unsuccessful, however, after the label ceased. She later changed her surname to Perry, her mother's maiden name, because "Katy Hudson" was too close to film actress Kate Hudson. At the age of 17, Perry left her home for Los Angeles where she worked with Glen Ballard on an album for record label Island. The album was due for release in 2005, but Billboard reported it also went nowhere. Perry was dropped by Island Def Jam Music Group. Some of Perry and Ballard's collaborations included "Box", "Diamonds" and "Long Shot", were posted on her official MySpace page. "Simple", one of the songs she recorded with Ballard, was released on the soundtrack to the 2005 film The Sisterhood of the Traveling Pants.
Perry signed to Columbia Records in 2004. However, the label was not amenable with her vision, not putting her in the "driver's seat". Instead, one of Columbia's ideas was to pair Perry with the record production team The Matrix, who was working on an album, to serve as its female vocalist. Although the album was later shelved, she caught the attention of the music press: Her burgeoning music career led to her being named "The Next Big Thing" in October 2004 by Blender magazine. With no album project ongoing, Perry began recording her own. Eighty percent completed, however, Columbia decided not to finish it and dropped her off the label.
While waiting to find another label, she worked in an independent A&R company called Taxi Music. In 2006, Perry was featured in the tail-end of the video to P.O.D.'s single "Goodbye for Now". She made a cameo appearance in Carbon Leaf's video, "Learn to Fly", and in Gym Class Heroes' video, "Cupid's Chokehold", playing the eventual love interest of lead singer Travis McCoy. Her songs eventually captured the attention of Virgin Records CEO Jason Flom, then head of Capitol Music Group, who signed her to Capitol Music in early 2007.